Landkind is comprised of 3 web applications, a native mobile application, and the back-end system developed to securely control the flow of data.
Landkind Web App
The Landkind web app is designed primarily for desktop. It provides the main functionality of viewing, editing and maintaining map data including Producing Areas and Hazards. Maps are printed in PDF format. Data can be viewed at both an individual property level, as well as at a group level - perfect for managing and exporting data summaries for regulatory bodies. While the app is designed for desktop usage, it is built on a responsive framework allowing it to work on tablets and mobile browsers.
Landkind Admin Web App
Permission to access properties inside Landkind can be controlled through the accompanying Landkind Admin Web App. In addition, the Admin Console includes the ability to add and invite users through the platform and managing the grouping of properties. This allows organisations autonomy over the day-to-day management of the platform and less reliance on customer support for basic tasks.
Landkind Share Map Web App
The share map web app allows Landkind users to safely and securely share their map data with non-Landkind users. The data displayed in the shared map web app has been specifically sanitized and transformed to avoid any way for viewers to view data outside of what's been shared.
Landkind Mobile App
The Landkind mobile application is designed for field navigation and collection - perfect for finding your way to a specific block or area and for tasks such as flower counts. The application can function fully in an off-line environment - critical for those properties where mobile connectivity is not always available.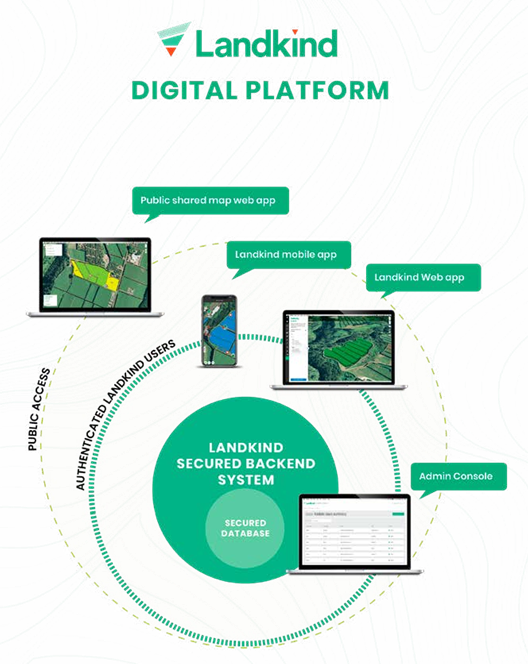 Getting Started
Ready to get started? Check out our guide for new users or contact us at info@landkind.com if you would like to talk to a sales agent.